Stand with Ukraine. Save peace in the world!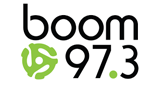 Boom 97.3
We play the best music from the 70's, 80's and 90's. From ABBA to ZZ Top. Every Long weekend is a Totally 80s Long Weekend!
Show more
Boom 97.3 reviews
Reliving my youth with 97.3

good

Jean-Pierre Paquette

18.08.2022

Le meilleur ROCK !!!

I love 70s, 80s and 90s vibes! Everything that comes from that time, unfortunately I only can listen to this radio using a VPN, but it's worth it! Thanks for hosting this guys :)

Ishimura Projects

15.08.2021

I love 70s, 80s and 90s vibes! Everything that comes from that time

Patricia Covent

30.07.2021

Been a fan for some time...

I am listening online in Ontario ! Great station. I've been here since I found yas ! Cheers !

Great station...N.Ber here.The d.j. said I might not get to hear my request until the next day. Which was ok with me.Surprise. She played my request before any others. Well done!

The best, listen all day!

I was a Q107 listener for many years, but they changed their playlist. I don't listen to Q anymore. Love the music that is played on BOOM! The best!
Information about the radio
CHBM-FM is a radio station in Toronto, Ontario, Canada broadcasting at 97.3 FM. The station currently broadcasts a classic hits music format branded as Boom 97.3. CHBM's studios are located at Yonge Street and St. Clair Avenue in Toronto's Deer Park neighbourhood, while their transmitter is located atop the CN Tower.
Radio contacts
General Info & Advertising Inquiries: +1 416-482-0973