Stand with Ukraine. Save peace in the world!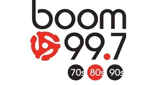 Boom 99.7
Boom 99.7 FM - CJOT-FM is a Canadian radio station based in Ottawa, Ontario, that broadcasts a classic hits format at 99.7 FM.
Show more
Boom 99.7 reviews
Jacques Lecours

23.05.2023

Please put less announce of covid. ItS Finish now.

good

Love the station, we stream it every weekend in Muskoka on the dock. . Best variety music anywhere. Please play some more Canadian music ie Sas Jordon, The Box, Boys Brigade Luba etc.

I love this station have been listening since 2017 I wish the variety of music could be better I mean whatever happened to playing Pete Townshend songs or Madonna songs honestly though I listen to this station mostly on Fridays because it is great for road trips or partying I wish that you guys could play more songs by Yes I have not heard them in so long.

Truth is I don't listen a lot anymore because I can't take the commercials. I want to ask where the DJ this afternoon got his doom and gloom facts from. He said ever 43 seconds a person in the USA does of Covid. I also want to point out to him that modelling has proven incorrect for the past 9 months. (Look up Niall Ferguson in the UK) I think it is important that your in air personalities give sources for the figures they bandy about. Especially when all your advertising is Covid,Covid,Covid. A balanced view point would benefit everyone. Maybe expand your playlist too.

David Turnbull

24.02.2020

What happened just after 7 pm Sunday eve., what, no explanation, no apology....poor, very poor

Classics and more. Awesome!!

Great station to listen in the mornings, love your prank calls! Enjoy listening to the 70's, 80's & 90's tunes!!

Denis Sincennes

30.09.2019

You seem to repeat the same songs on a daily basis….

laurie schrier

03.04.2019

I am tired of hearing about Jody Wilson Rayborn, I lost respect for her cause when she kept dragging it out. As for the other one she is just riding Jody's coat tails I still can't remember her name. I am a women who pokes the Bear all the time. I don't always get the results nor do I follow what I am pressured to do if I don't believe that is correct. Men get pressured all the time and don't always get what they want, Don't tell me you expect everything to be perfect quit acting like a spoiled brat. that is the way I see this my opinion. I am sorry she felt pressure but she stuck to her principals good for her. If I was her boss I would have done the same thing. If you are so unhappy with your job or your colleagues get another job. Go back to law and serving the people you want to serve. She does not need the liberals to do it. As for the radio host enough!!!
Information about the radio
CJOT-FM is a radio station based in Ottawa, Ontario, Canada, that broadcasts a classic hits format at 99.7 FM. The station uses its on-air brand name Boom 99.7, and is owned by Corus Entertainment. CJOT's studios are located on Merivale Road in Nepean, Ontario along with sister station CKQB-FM, while its transmitter is located in Greely, in the south end of Ottawa.
Radio contacts
Text Messaging: +1 613-750-0997