Stand with Ukraine. Save peace in the world!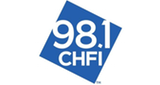 98.1 CHFI
98.1 CHFI - CHFI-FM is a broadcast radio station in Toronto, Ontario, Canada, providing Adult Contemporary Pop and Rock music.
Show more
98.1 CHFI reviews
Saturday / Sunday October 9 th2022 , Used radio song wedding s brital party . at pickering recreation complex the church Morningstar Christian fellowship , church in scAROUGHS ON . ITS TRUE , THEY BETTER GET PAID , NOT GOOD ENOUGH , WHEN SIBLINH AWAY, TO , FAMILY SPLIT UP , FOLLISHNESS .

God bless them...if only they can STOP playing Britney Spears and Madonna

I enjoy listening mostly all day and everyday but there are millions of great songs and artist and almost everyday I hear (call me maybe or never gonna give you up) tired of these!!

Joanne Micallef

17.11.2022

I enjoy listening to the Christmas music on CHFI. Puts you in the Christmas spirit! Merry Christmas y'all!

I am enjoying the Christmas Music and having fun listening to the contest! Merry Christmas! HO HO HO!!!

Hans Schonrock

08.10.2022

On Monday hub ever happy Thanksgiving and be safe

Catherine Martins

09.09.2022

I love your show and non repeat music during the work day keep it up🥰🤗🙏 switched from 104.5

Whomever is the host at 8 am …. Sucks could keep people entertained if you were to drug them. No expression in his voice just like a robot, zero emotion. You make me want to slit my wrists

Who in Toronto (in particular in an office setting) is annoyed with radio station CHFI? I work in the office and this station is played throughout the day. I can't stand the music they are playing, especially the repetitive nature of the songs they play daily. How many fucking times do I need to hear Carly Rae Jepson's 'Call Me Maybe' or Fergie's 'Big Girls Don't Cry'?

I love your station. Listen to it everyday. I'm so frustrated! I think I know the answer to the Secret Voices contest but I don't get a chance to play...no calls coming to me. Is there a better way to text to get a chance to play?
Information about the radio
CHFI-FM is a radio station in Toronto, Ontario, Canada. Owned by Rogers Media, it broadcasts an adult contemporary music format. CHFI's studios are located at the Rogers Building at Bloor and Jarvis at the northeastern corner of downtown Toronto, while its transmitter is located atop the CN Tower.

CHFI is currently the most listened to station in the Toronto market according to the Numeris ratings.[1] CHFI-FM is one of three AC stations in Toronto, along with CKDX-FM in York Region and CKLH-FM in Hamilton.
Radio contacts