Stand with Ukraine. Save peace in the world!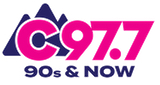 C97.7
C97.7, 90s & NOW! If you grew up with all that fun music of the 90s, or you just love those songs, we're the radio station for you! Plus, we mix in all the big hits right up to today. Calgary's only 90s & NOW radio station!
C97.7 reviews
William E. Lutz

14.06.2023

C 97.7 Throwbacks RULES!

Your my favorite Station, Linda and Jay in the AM ,but unfortunately, we don't hear Xmas Songs !!!!!! this time of the Year!!!! Are you not Christians!!!!!

Hey, Al. No one asked you to listen to this radio station. Can you suggest something really cool (not) to listen to? . Chill, brother.

Grant B, FYI "ZZ Top" is an American band. It's name is pronounced Zee Zee Top, not Zed Zed Top!

Great station. They have very good taste in music. It plays more music and less advertisements then our local stations.

I like this radio station. I listening from Reynosa, Mexico. Super Cool radio station..

Whoever might think that Soft Rock 97.7 is a great station must not have to listen to it every day for nine hours straight. They play the same crap every day, all day, forever only interspersed by repetitive call signs and lame news coverage. Whoever does their programming is either a computer or a ninny. Commercial radio is crap. Soft Rock is a toxic sewage lagoon.
Radio contacts
Call or Text our Hosts @ (403) 692-0977
(std txt msg rates apply)