Stand with Ukraine. Save peace in the world!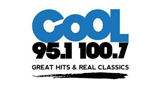 Cool
Cool 95.1 - CKUE-FM is a broadcast radio station in Chatham-Kent, Ontario, Canada, providing Classic Rock, Pop and R&B Hits music.
Show more
Cool reviews
jean-pierre paquette

41 min. past

Rock on !!!

I just started listening to this station especially in the AM. They talk too much on the American stations. I like the quick weather sports news and it gets right back jamming ehhh.

Great station 'except' the SAME songs and Artists over and over. I have a stick that has more than 850 mp3 songs and I can't understand why you have to play the 'same' song 3x in an 8 hr. period. I'm older and those are my favorites that I'm starting to dislike because they are repetitive. I presented your station to a friend of mine who came back at me with.. WHY do they play the same songs over and over. I'm not trying to be rude but PLEASE for the love of God.. play more variety. You're appreciated, no question but for someone who listens daily, have a heart!

ROBERT JAMES WHITTINGTON

26.05.2021

Your Listening to 95.1 Cool FM ! Awesome .

I live in Michigan and I found this radio station by accident two weeks while driving, and they were playing "Hey You" by BTO. I cannot tell you how long it has been since I've heard that song on the radio but it was great. After listening for the past two weeks, I cannot say enough good things about the songs they play and it's a mix of every genre which I enjoy and this station is a very welcomed change from all the junk that is being played on other stations. I am also learning a bit about Chatham-Kent by the commercials, so now my friends and I are going to have to run over and visit. Rock on!
Information about the radio
CKUE-FM is a radio station located in Chatham-Kent, Ontario. Owned by Blackburn Radio, the station broadcasts a variety hits format under the name 95.1/100.7 Cool-FM. The station broadcasts on 95.1 MHz, and operates a rebroadcaster serving the nearby Windsor market, CKUE-FM-1, on 100.7 MHz.
Radio contacts
SoundCloud: www.soundcloud.com/cool-radio-canada