Stand with Ukraine. Save peace in the world!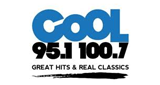 Cool
Cool 100.7 - is a broadcast radio station in Windsor, Ontario, Canada, providing Classic Rock, Pop and R&B Hits music.
Show more
Cool reviews
Mr Dj

I live in Michigan but I love this radio station and I discovered it last year, April 2020 by accident while working from home. They just played "Gimme your money please" by BTO a few minutes ago and it was great to hear it. A childhood friend of mine and I grew up addicted to BTO, and this was his fav song. I can still hear the very next song on our 8-track. I bet few know what song it is. Canadian artists are some of the best song writers ever. Oh I almost forgot, they also play a lot of Bryan Adams. Keep up the great work!

I like this radio station because it's located in Windsor Ontario, I like listening to local news.

I just turned this on last week. Can't get enough of it. We live in Wyandotte. I get pretty good reception there, but by the time I drive into work in northwest Detroit, the signal fades pretty bad. Hope you can get more signal soon. I absolutely love this badass station. Best thing since original WABX back in the mid to late '60's. You play everything! Can't say enough.

Good Music and Tymo is crazy guy to

Shelley Taylor

02.10.2019

My Morning drive is awesome with Tymo 👍🙌 Thanks Tymo👌
Information about the radio
CKUE-FM is a radio station located in Chatham-Kent, Ontario. Owned by Blackburn Radio, the station broadcasts a variety hits format under the name 95.1/100.7 Cool-FM. The station broadcasts on 95.1 MHz, and operates a rebroadcaster serving the nearby Windsor market, CKUE-FM-1, on 100.7 MHz.

CKUE's main signal is broadcast from a tower a few kilometres west of the community of Chatham, Ontario with an effective radiated power of 42,000 watts.
Radio contacts
Fax: +1 519-944-3747

SoundCloud: www.soundcloud.com/cool-radio-canada