Stand with Ukraine. Save peace in the world!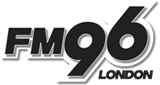 FM 96
FM 96 - CFPL-FM is a broadcast radio station in London, Ontario, Canada, providing Classic Rock, Hard Rock and Metal Hits music.
Show more
FM 96 reviews
Your my salvation ! You Gals/Guys rock! Keep on keepin on!!!

Great music great channel you Rock keep up the good work l live an hour from Ottawa love your station

review
Information about the radio
CFPL-FM, or FM96, is a radio station owned by Corus Entertainment and based in London, Ontario, Canada that transmits at 179,000 watts at 95.9 MHz on the FM dial. Due to the strength of FM96's signal, on some days under clear atmospheric conditions it can be heard as far west as Whitmore Lake, Michigan and Windsor, Ontario, as far south as Cleveland and Ashtabula, Ohio or as far north as Northern Ontario on a typical car radio. CFPL-FM currently primarily plays an active rock format with a slight lean towards alternative rock.
Radio contacts
Fax: +1 519-438-2415

Soundcloud: http://soundcloud.com/fm96-1
Instagram: http://instagram.com/fm96rocks