Stand with Ukraine. Save peace in the world!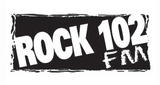 Rock 102
Rock 102 CJDJ-FM is Saskatoon's first and only adult rock station and the city's only source for new rock, the best of the 90's, along with the biggest classic rock superstars. Rock 102's Morning Show, "Shack and Watson" features fun, topical humor and irreverent, in-depth conversation all mixed with a bit of mischief.
Show more
Rock 102 reviews
Love, Love, Love this station! Listen to it loud and proud from Brandon, Manitoba!

Jean-Pierre Paquette

18.08.2022

The best !!!

Absolutely disgusting one sided Vegas Knights fan commenting on your station. Nothing about 'First Canadian Team' since 2011 can qualify for the Stanley Cup Finals.

Discovered the station purely by chance. Love listening to the music that is played. Listen to the station most of the time. Super cool choice of songs.

So I enjoy this radio... most definitely!! Great programming.

I've never even been to SK - From Toronto to BC to Alberta - but this is by far my favourite station in Canada so far.

The best station in S'TOON!
Information about the radio
CJDJ-FM is a Canadian radio station, broadcasting at 102.1 FM in Saskatoon, Saskatchewan. The station, owned by Rawlco Communications, broadcasts an active rock format as Rock 102. It shares studio space with sister stations CFMC and CKOM at 715 Saskatchewan Crescent West, also the home of Rawlco Radio's Corporate Offices.
Radio contacts