Stand with Ukraine. Save peace in the world!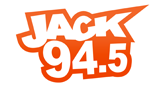 Jack FM
94.5 JACK fm - CKCK-FM is a broadcast radio station in Regina, Saskatchewan, Canada, providing rock, pop and r&b hits music.
Show more
Jack FM reviews
the best and easiest listening station ever

Karen MacDonald

02.03.2023

I listen every chance I get, especially when Shaun n Jen are on air

Darrel VanDyke

12.11.2022

I was listening to the "morning show" this morning (11/11) and was struck by the remembrance done for veterans. The moment of silence was perfect leading into the wonderful poem Flanders Field, only to be followed by John Lennon's Imagine. I live in Dallas, Texas, where it seems the idea here to remember us veterans is to offer 10% off a mattress or furniture, or a free coffee at Starbucks. No local radio station to my knowledge did what your station did. Your programming and hosting is second to none in all of North America, and today's tribute to veterans reinforces that. Well done.

I listen 2 u guyz on my way home 2 Moose Jaw fr Lloyd. On the return home 2 Lloyd and thank jeebus on-line!!! love yousxoxoohappy new yearxoxoxox

👍🆒🤘

Serhi Oleksienko

20.08.2021

🆒

Jenn, here is Sean's Olympic event: He must sit on a couch for 6 hours & get a washroom break every 2 hours. For that 6 hours he must watch "General Hospital" on TV. He is allowed a bag of pretzels & a can of Pabst Blue Ribbon once a hour as a treat.

I love this station and The sunday morning oldies

great morning show lots of laughs

you have the greatest radio programing i ve heard you and your partners do a great job you have agreat job thanks
Information about the radio
CKCK-FM is a Canadian radio station broadcasting at 94.5 FM in Regina, Saskatchewan. The station was one of the world's most pioneering radio stations. The station uses its current on-air branding as "Jack 94.5" with an adult hits format and is owned and operated by Rawlco Radio.
Radio contacts