Stand with Ukraine. Save peace in the world!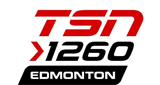 TSN 1260
TSN 1260 - CFRN is a broadcast radio station in Edmonton, Alberta, Canada, providing Sports News, Talk and Live coverage of sports events. TSN Radio 1260 is the flagship station for the FC Edmonton, Edmonton Oil Kings, Edmonton Rush, Spruce Grove Saints AJHL hockey, and the University of Alberta Golden Bears.
Show more
TSN 1260 reviews
uhhh EDMONTON RUSH listed above have been gone for year's ... good to see top notch attention to a website ...not !!

This music is so cool and amazing it is so loud and rocking and awesome the song is great I like your song

If Hall is so good he should be able to score goals on any team I think he's a cancer in the locker room

its great info and being in my home country listening to world juniors talk now
Information about the radio
CFRN is a Canadian Class A, 50,000 watt (directional at night) radio station in Edmonton, Alberta; CFRN is unusual in that it is a Class A (protected nighttime skywave) AM station on a regional frequency.[1] Owned by Bell Media and broadcasting on 1260 AM, the station airs an all-sports format, branded as TSN Radio 1260. The station's studios are located at 18520 Stony Plain Road in Edmonton, where it shares studio space with its sister station, CTV O&O CFRN-TV. Both stations continued to share space after the radio and TV operations were sold to different owners in the 1980s, but were united in 2013 by Bell's acquisition of Astral Media.
Radio contacts