Stand with Ukraine. Save peace in the world!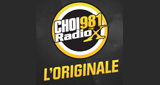 CHOI 98.1 Radio X
CHOI 98,1 Radio X - CHOI-FM is a broadcast radio station in Quebec City, Quebec, Canada, providing Talk shows and Rock music.
Show more
CHOI 98.1 Radio X reviews
Francisco Hernandez

05.09.2022

bonjour, je suis francisco, j´ecoute de veracruz, mexico. saludos a todos.

un p tit coucou de France où j vous ai découvert en jouant à American Truck Simulator du coup j vous écoute avec votre accent québecois un délice! un dépaysement totale !☮️

Un poste qui ne tient pas la route avec toutes ces informations tout à fait erronées. Une vraie honte pour l intelligence humaine. Ce poste porte très bien son nom de....radio poubelle !

Au moins une station qui dit la vérité et est a l écoute des auditeurs merci pouvez-vous nous faire jouer i love it louds de kiss

Camionneurs à date vs canada/us

Kate-Kelly Jackson Naulein

30.09.2021

J'aimerais bien savoir auprès de qui le gouvernement fait leur sondage pour la vaccination sur les enfants? Faut résultats encore!!

christophe darlot

29.09.2021

Merci à toute votre équipe de donner de la joie et de l'humour en ces temps troubles !

La musique est si cool et agréable, le rythme est génial et bon et les enfants qui vous encouragent sont si gentils

Patrick Dufficy

23.03.2021

Le seul média au québec qui n'est pas corrompue. Pas de pubs propagandistes et maternantes du gouverne-ment. Ceux qui disent les vraies choses sont toujours critiqué.

Tout ceux qui appelle choi 98.1 une radio de conspirasioniste sont des idiots brainwasher qui dort au gaz.
Information about the radio
CHOI-FM is a French language FM radio station that broadcasts on the frequency 98.1 MHz out of Quebec City, Quebec, Canada, with a talk radio format (before its takeover by RNC Media, it aired mainly active rock music, and finally to modern rock until becoming a talk radio station in 2010). Locally, it is known as Radio X (a reference to "Generation X", as most of CHOI's listeners consider themselves). It was owned by Genex Communications since July 1996. The Bureau of Broadcast Measurement ratings released in December 2004 revealed that CHOI was the most popular radio station in the city with 443,100 listeners, up from 380,500 earlier in the year.[clarification needed] The station is well known for airing controversial ideas and populist opinions. The station has become a target of various groups, notably feminists and gay activists, as well as prominent politicians, for some controversial political statements.
Radio contacts