Stand with Ukraine. Save peace in the world!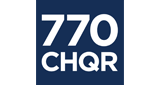 770 CHQR Global News Radio
770 CHQR Global News Radio is a broadcast Radio station from Calgary, Alberta, providing news, weather, traffic and sports information programs.
Show more
On the air 770 CHQR Global News Radio
| | |
| --- | --- |
| Live | . - CORUS HARD ID WITH BED 2 - QR HOUR STARTER INTRO&BED |
| 07:33 | . - 061223 - QR-PROOF OF PERFORMANCE RTN |
| 07:30 | . - FALL 2022 - NEWS INTRO - SOUNDER ONLY!! |
770 CHQR Global News Radio playlist
TOP songs on 770 CHQR Global News Radio
770 CHQR Global News Radio reviews
I like the talk shows but cannot understand why you support the NDP and cut up the UPC. All the NDP does is criticize everything the UPC says or does. Where is the NDP's plan. The only plan I have ever heard from the NDP is give every union person a raise in pay. All that will do is drive up taxes. Not helpful

Kathy Schwengler

11.01.2022

Morning talk show host Ganam is rude, egotistical and condescending. I'll be shutting of the radio and listening to podcasts.

Great shows, especially Ganam weekday mornings. D. Smith was ok but a bit out there. Alberta Morning News with Usselman is a fun show. Do not like the dropping of The Money Show with Mike Campbell, business? Good thing Jesperson is gone, what a loudmouth jerk.

Long time listener of Danielle Smith, When you replaced her with this fool Shaye I tried to keep listening but the guy is a jerk, he is misinformed, he thinks he knows everything and is always right when mostly he is wrong and just pushing the liberal mainstream narrative. He is rude to callers, doesn't want anyone else's opinion. You have lost a listener and I hope you lose your sponsors. The man is an idiot and has ruined your morning show, find a replacement or go the way of CNN.

such a shame to lose Mike Campbell, dumb move on your part.

Exceptional local information.

Listen to Smith most every morning. exceptional show. Fine someone other than the afternoon host (ROB) for her replacement.

Listening daily in Donsol,Sorsogon.Philippines.On holliday since Nov 21 2019.Thank you!

Marilyn Greenwood

22.03.2020

I found this station on a visit to Calgary. Liked the talk format and the Old Radio Shows ! I listen now, online from Windsor, Nova Scotia.

I find that this station is very informative and trust worthy
Information about the radio
CHQR is a radio station owned by Corus Entertainment operating in Calgary, Alberta, Canada. Broadcasting at AM 770, it airs talk radio programming. With the exception of one show, all of CHQR's weekday programming is produced in-house. CHQR is also the exclusive radio voice of the Calgary Stampeders. CHQR is also the last AM station in the Calgary market to broadcast in C-QUAM AM Stereo. CHQR is a Class B station on the clear-channel frequency of 770 kHz.

CHQR's studios are located on 17th Avenue Southwest in Calgary, while its transmitters are located just south of the Calgary city limits near De Winton.

As of spring 2013, CHQR is the third-most-listened-to radio station, the second most listened-to AM station, in the Calgary market according to a PPM data report released by BBM Canada.
Radio contacts