Stand with Ukraine. Save peace in the world!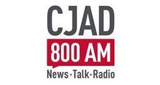 CJAD
News Talk Radio CJAD 800 is Montreal's "go to" for compelling conversation and frequent News, Weather and Traffic. CJAD 800 has the top-rated hosts all-day including Andrew Carter, Leslie Roberts, Tommy Schnurmacher, Natasha Hall and Aaron Rand.
Show more
CJAD reviews
Bruce Ferguson

30.11.2023

Leslie Roberts and Tommy Schnurmacher are no longer on air at this station. To bad...They were awesome!!

abderrazik iliass

28.10.2021

Great radio station with neutral opinion :)

My favourite daily look into Montréal news and VERY entertaining.

Michel Boisvert

27.03.2020

Great station
Information about the radio
CJAD 800 AM is a broadcast Radio station from Montreal, Quebec, Canada, providing the most frequent news updates, traffic reports every 15 minutes and comprehensive weather. CJAD is home to the most well-known personalities in in the city including Andrew Carter, Dave Fisher, Aaron Rand, Tommy Schnurmacher, Ric Peterson, Suzanne Desautels and Barry Morgan. CJAD also offers extensive coverage of the Montreal sports scene and is the official broadcaster of the Montreal Alouettes, Montreal Impact and The Rogers Cup.
Radio contacts