Stand with Ukraine. Save peace in the world!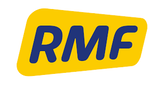 Radio RMF FM
Radio RMF — Pierwsza w Polsce prywatna stacja radiowa. Powstała w 1990 roku i szybko stała się jedną z najpopularniejszych rozgłośni w kraju. Tutaj usłyszysz mnóstwo hitów na czasie oraz przebojów z ostatnich 30 lat.
Show more
Related radio stations
Show more
TOP songs on Radio RMF FM
Radio RMF FM reviews
Kamil Walendzewicz

14.04.2023

Tam Bałkanica jest solo

SUPER. Ked sme v Polsku pocuvame len RMF FM.

Маргарита Демченко

28.04.2022

mamy wszystko i nie mamy nic , proszę, pomóż znaleźć tę piosenkę

Daimonos Szemhamforasz

24.04.2022

CH.., D... I KAMIENI KUPA!!

Piotr Pawliczak

06.03.2022

ZAKARION z tą swoją opinią, idealnie wpisujesz się w retorykę putinowską. Dzięki takim nietolerancyjnym osobom mamy wojnę w Ukrainie. Pogratulować głupoty.

Marek Grajkowski

02.03.2022

Super pozdrawiam całe radio

Gówno a nie radio

Gertruda Jaworska

25.12.2021

Jak ja nie znoszę tego radia

Kosidlo Tomasz

08.12.2021

NOWY TEMAT KANAL TYPU ....... Ministerstwo <mosty pl ile kosztoja >

artur galaszewski

24.11.2021

zgadzam sie zopinia tomasza
Information about the radio
Radio numer 1 w Polsce. Największa i najpopularniejsza stacja muzyczno-informacyjna. Prezentuje aktualne hity i największe przeboje ostatnich 30 lat oraz najistotniejsze Fakty.
Radio contacts
+48 12 662 20 00
http://www.rmf.fm/; http://www.rmf24.pl/