Stand with Ukraine. Save peace in the world!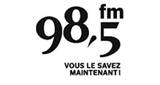 98,5 FM
Le 98,5 est la station no 1 à Montréal, au Québec et au Canada. Paul Arcand, Isabelle Maréchal, Bernard Drainville, Patrick Lagacé, Paul Houde: ils sont tous ici.
Show more
98,5 FM reviews
Monique Courcelles

17.05.2023

Je vous suggère de mettre à jour les photos et identification de vos employés. Presque la moitié de votre personnel a été changée. Il m'est difficile d'écouter de 10h à 12h puisque l'animatrice, malgré son passé politique, n'a pas l'air très ``ferré`` dans ses différents dossiers et tend à attirer les auditeurs ayant des propos négatifs.

J'essaie de m'inscrire au concours pour le voyage en Virginie mais on me dit que mon no de tél est invalide !!! C,est bien les concours mais il faut etre capable de s'inscrire !!

J'ai la même opinion que Monsieur Marc Perron concernant la nomination de M. Patrick Lagacé, moi aussi vous me perdez comme auditrice matinale.

Suite à la nomination de M.Patrick Lagacé , je vous avise que vous m'avez perdu comme auditeur matinal.

super ecouter le hockey ici .... merci :)

Dominic Barrette

24.12.2022

Bon travail ! Meilleures radio pour écouter les HABS !!!!

Daniel Laporte

16.12.2022

Je sais pas mais quand ils disent l heure ils sont depuis longtemps 4 minutes en retard !!?!!??

Gaëtan-Daniel Drolet

08.11.2022

On dirait que personne ne leur montre que c'est cool d'inventer de nouvelles expressions en français alors par paresse intellectuelle ils copient l'anglais des réseaux sociaux.

Emrick Lambert

03.10.2022

Rendio completement vendue come on grosse propagande

Martine & Claude

13.09.2022

Nos diffuseurs se tirent dans le pied avec Stat et Indéfendable à la même heure. Les annonceurs y perdent pour beaucoup ! L'enregistrement de l'un ou l'autre élimine automatiquement les passages des annonces. Qui d'entre-nous regardent les publicités alors qu'il est si facile de passer outre avec la fonction d'avance rapide !.
Information about the radio
CHMP-FM is a French language Canadian radio station located in Montreal, Quebec. Owned and operated by Cogeco, it broadcasts on 98.5 MHz with an effective radiated power of 40,800 watts (class C1) using an omnidirectional antenna atop Mount Royal. CHMP's studios are located at Place Bonaventure in downtown Montreal.

The station identifies itself as "98,5 FM" and is one of the few full-time FM talk stations in North America to broadcast in stereo. The station has a few music blocks, during weekends.

Notable personalities include popular morning drive time host Paul Arcand, midday host Benoît Dutrizac and afternoon drive host Paul Houde. Gilles Proulx was also heard on the station from 2004 until his retirement on August 7, 2008.
Radio contacts