Stand with Ukraine. Save peace in the world!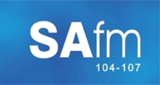 SAfm
Johannesburg, 104-107 MHz FM
SAfm is one of the seventeen national radio stations owned by South African Broadcasting Corporation (SABC). It broadcasts on 104-107 FM frequencies nationwide from its studio in Johannesburg. This radio station has a long history. It was founded in 1936 and since then it changed its name several times until finally became SAfm in 1995.
Show more
SAfm reviews
My name is Raj if u speak to anc I want to know what happens to former president Zuma now that he has brought disruptute to the anc as an organization and the ppl of South Africa who follow anc. Thank you.

Great Station on Current News

Cindy Johannes

07.04.2019

❤❤❤

100% perfectly smooth

Mochochonono Comet

05.12.2018

I listen to Zai khan every morning when she does sports on the sunrise show. I admit she has an inticing voice. She sounds as if she's smiling when she talks. Love it. Keep up the good work

Khululekani Tyayo

18.10.2016

Why do some white people think this is an attack on them? get off your high horses and realize that you are brainwashed into viewing knowledge as a western invention which is not.

Great show! The post office should privatise (franchise) post office branches to increase their footprint.
Information about the radio
SAfm radio station pioneered introduction of talk-format radio. There was a time when they broadcasted wide range of content including news, music, drama, children's programmes. But then they added more and more information programmes, news and talk shows and removed all other type of entertaining content. And In 2006 they were forced by ICASA (the broadcasting governing body) to resume broadcasting of entertaining content.

SAfm is an award-winning radio station. At MTN Radio Awards they were nominated in several categories in 2011, 2012 and 2013. According to statistics from their official website their audience includes more than 500,000 listeners across South Africa. But the real amount of their audience should be much bigger since many people prefer to listen to SAfm online. We also welcome you to add this page to your bookmarks if you want to have a live stream of this radio station on your PC. And if you prefer to listen to them on your smartphone you can download our free app for that.
Radio contacts
Fax Number: (011) 714- 5829
SMS: 41391