Stand with Ukraine. Save peace in the world!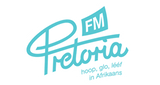 Pretoria FM
Pretoria FM is 'n gemeenskap-gebaseerde radiostasie gevestig in Pretoria, Suid-Afrika. Ons programme is gerig op die Afrikaanssprekende gehoor wat passievol is oor musiek. Ons saai 24 uur per dag uit op 104.2 FM.
Pretoria FM reviews
Siebert Marais

19.06.2022

Dankie vir vanoggend se mooi BOODSKAP VAN HOOP.Ek luister graag na u al is en baie ver in DIE KAROO BY LAINGSBURG.SIEBERT MARAIS

Marijke Disney

06.01.2022

wonderlike stasie, baie dankie vir al die lekker luister en n geseende 2022 vir julle almal

DANIEL ERASMUS

30.12.2021

luister lekker, pta fm vanuit tonbridge kent engeland kuier by ons kinders.

Etienne Marais

20.10.2021

Asseblief speel meer Christelike musiek op Pretoria FM elke dag?

Anna-Mari Meiring

14.12.2020

n Puik stasie

Buks Van Niekerk

11.12.2020

die beste radio stasie, dankie

Lekker om te luister na Radio Pretoria vandaag en die onderhoud met Gideon Swart van Wild Cactus Cafe! Ons het hulle heerlike koffie in Februarie gedrink toe ons in Suid-Afrika gekuier het! Cheryl - Atlanta, Georgia

Ek wil net graag weet ons bly in Dunnottar tussen springs en Nigel, my man kan julle stasie kry op 104.2 in spring maar nie hier by ons huis nie. Is daar dalk n probleem want hy vertel van al die interresante dinge waaroor julle gesels en die lekker musiek wat julle maak. As iemand dalk vir ons kan uitvind asb. Ek kan net op my rekenaar lna julle live luister. Baie dankie Magda Bruyns.

Hi so lekker om te luister vandag. Ek onthou die kenwysie van keep it Country as "I saw the Light"van Hank Williams... is dit reg?

Anthony Ihlenfeldt

08.05.2020

Ek Lief Radio Pretoia se Boeremusiek en Luister elke Vrydag Aaand hier uit Brackenfell, Groetnis Anthony Ihlenfeldt.