Stand with Ukraine. Save peace in the world!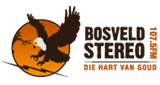 Bosveld Stereo
Johannesburg, 107.5 MHz FM
Bosveld Stereo is a community based broadcast radio station, providing African music, news, Christian programs, and Entertainment.
Show more
Bosveld Stereo reviews
Ek geniet julle stasie terdeë, maar in die afgelope twee weke gaan die verbinding kort kort af. Ek sien ander luisteraars kla ook hieroor. Sal julle kan kyk na die probleem asb. Dankie weereens vir 'n uitstekende stasie. Hou so aan.

Ek geniet die stasie, veral met loadshedding :)))

Hi Bosveld. Ek luister online. Gaan kort kort aan en af. Is die probleem met internet? Ek bly in Hartbeespoort?

Matthew Hutson

04.02.2023

I love the wide range of music, every time im traveling it on loud, found this station only recently.

Sit hier in n lekker warm Wellington (Wes-Kaap) en werk met Bosveld wat lekker musiek maak. Dankie julle! Die musiekseleksie is vandag sommer net weer puik.

Natalie Barrett

10.11.2022

Die beste naas aan RSG

Beste radiostasie in SA!!

Collin Thompson

04.10.2022

Kan Bosvels Stereo nie its doen aan hul syn nie groort ASB want in KZN is hy aan en af

Hier uit Namibia mal oor hierdie stasie heeldag luister ons op kantoor daarna mooiste musiek dankie dat ek na julle kan luister. Groete Elma Windhoek

Jan Diederik Van Meyeren

25.07.2022

Hou Baie Daar Van
Information about the radio
Bosveld Stereo 107,5 FM, die gemeenskapsradiostasie vir die groter Hartbeespoort, Brits, Rustenburg area.

Bosveld stereo is 'n gemeenskapgerigte radiostasie wat van plaaslike talent gebruik maak om ons luisteraars mee te vermaak. Almal wat tans by Bosveld stereo werksaam is woon binne die uitsaai voetspoor van die stasie en almal neem ook aktief deel in een of meer van die gemeenskap projekte waarby Bosveld stereo betrokke is.

Ons is 'n Afrikaans gebaseerde radio stasie met 'n Christelike agtergrond. Dus staan ons geen haatspraak van enige aard voor nie en reik ons 'n helpende hand uit na die gemeenskap wat ons bedien.

'n Dinamiese Radiostasie

Bosveld Stereo het op die frekwensie 107.5FM in stereo begin uitsaai op 1 Oktober 2008. Hierdie mylpaal is behaal na jare se voorbereiding en onderhandeling met die gemeenskap wat hy bedien asook met die lisensie-owerheid in Suid-Afrika wat verantwoordelik is vir die toekenning van uitsaailisensies.

Bosveld Stereo is 'n besonderse dinamiese gemeenskapsradiostasie met sy sendermas 380 meter hoog op die Magalliesbergkruin bokant die Hartbeestpoortdamvallei. Hoë punte in Randburg, Sandton, Bryanston, Pretoria se Moot en selfs sover as Cullinan is binne siglyn van die sender.

Bosveld Stereo se voetspoor

Bosveld Stereo saai uit na 'n verskeidenheid teikengehore binne die radius van sy voetspoor wat strek vanaf Bryanston, Sandton, Randburg, Roodepoort, Krugersdorp en Randfontein in die suide tot in die hart van die Bosveld by Thabazimbi in die noordweste. Sywaarts bereik Bosveld Stereo Centurion, Pretoria-Noord, Pta-Wes en Pta-Oos en tot sover as Warmbad en Nylstroom, weswaarts oor die Magalliesberg, Brits, Rustenburg en omgewing.
Radio contacts
FAX: 012 259 0953