Stand with Ukraine. Save peace in the world!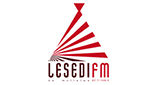 Lesedi FM
Johannesburg, 106.6 MHz FM
Lesedi FM is a public broadcasting service located in Bloefmontein, South Africa. Like a series of other radio stations in South Africa Lesedi FM is owned by South African Broadcasting Corporation (SABC). This radio station was launched in 1960 and is currently available in all nine provinces on 87.7-106.6 FM frequencies. Lesedi FM broadcasts in a 24/7 mode exclusively in Sesotho. Their programme format includes music and talk.
Show more
Lesedi FM reviews
Ntate Thuso, Thikhoi o hantle?

Sending love to Lesedi FM

Masilo Mofokeng

09.07.2023

Ya kena namane e tshehla

My best station for local content.

Phatolo Moeketsi

10.07.2022

Intergrity and purpose to fullfill God Kingdom, ke bona bophelo gona jwale Ntate thuso.

kakata

Tumelo Believe

11.05.2022

lesedi ke mollelwa ke the best

Moletsi Rammea

17.04.2022

Kakata!!!

The website it's good it's very clear and easy to use I'm in cape town

Thulane Serakalala

16.01.2022

o buwa nnete ntate Thuso, bophelo re a iketsetsa re sale nako. Modimo o re ho buka ya diprofebeya" motsha hopola Modimo wa hao botsheng ba hao. Hobane ha re le ho Modimo re bolokehile haholo.
Information about the radio
This radio focuses on the following music genres:
• Gospel
• Youth
• Sesotho traditional music
• Contemporary music

According to the information that they published on their website Lesedi FM is number three within TOP 10 radio stations in South Africa. It has more than 100 000 likes in Facebook and around 40 000 followers in Twitter.

Bookmark this page with the live stream of this radio station so that you can listen to Lesedi FM online at any time and any place. For your convenience we also have an app so that you can access all radio stations listed on our website from your mobile device easily.
Radio contacts
Studio: 089 110 1111 (Bloemfontein), 089 110 2001 (Johannesburg)
Fax: 051 503 3270
SMS: 45982