Stand with Ukraine. Save peace in the world!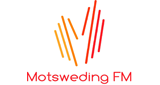 Motsweding FM
Johannesburg, 87.9-107.9 MHz FM
Motsweding FM radio station started broadcasting in June 1962 as Radio Tswana. Nowadays it is a national radio station owned by South African Broadcasting Corporation (SABC) and covering several provinces in South Africa. The main broadcasting language is Setswana and the headquarters of this radio station is in Mahikeng. The slogan of this radio is Konka Bokamoso. Their website doesn't provide any English-speaking equivalents at all and Google translate does the translation incorrect. This is a clear sign that Motswendig FM has strong focus on Setswana-speaking audience trying to nurture pride and respect of their cultural heritage.
Show more
Motsweding FM reviews
ke rata mmino le tshedimosetso tseo le re fang tsona tsatsi ka tsatsi

Thabang Ngwenya

11.07.2022

Danko ..ke le reditse ka tlhamallo ke le mo zeerust (Shalimar park)

Ke reetsa matsatsi o tlhe.. la re tswellang pele ka tiro e ntle .

Ke reeditse ka hlamalalo kele ko legare la Botswana, motse o bidiwa Palapye 💙💙

Excellent service keep it up motsweding fm keya rena

Ke itumeletse thuto ya mosigo jeno. Ke kae downloada kae bagolo bame? "Sena hase bokhutlo"

Matsina Thakadi

02.01.2022

Ke reeditse go tswa malatsing a boikhutso Durban. Baruti Jehova a lo dire ka mohau 2022. DiBruyn , Moruti Tube, Bishop Matebesi, Pastor Motsamai and Mmanape Modisane Modise.

Mekgwe Thebeyakgotla

20.12.2021

Hake sepe se sephoso... A re itumeleng

LaModimo Mothei

24.10.2021

Excellent

Keolopile Mabusa

09.09.2021

kale dumedisa baruti bame...
Information about the radio
They position themselves as an urban adult contemporary radio station which is reflected in their programme:
• Music (various genres of contemporary music starting from Afro Pop and Hip-Hop to Jazz, Reggae, House and world music)
• News & information
• Competitions

Motsweding FM radio station is available on 87.9-107.9 FM frequencies in North West, Northern Cape, Gauteng Province and Limpopo. But if for some reasons this radio station is not available in your region, you can use live stream of this radio on our website and listen to Motsweding FM online. Or alternatively if you prefer to listen it on your mobile device, please download our app for free.
Radio contacts
Studio: 089 860 5665
SMS 41704