Stand with Ukraine. Save peace in the world!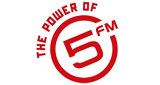 5FM
Johannesburg, 98.0-103.6 MHz FM
5FM is one of the seventeen radio stations owned by South African Broadcasting Corporation. It broadcasts nationwide from Auckland Park, Johannesburg on different FM frequencies. This radio station started broadcasting in 1975 as Radio 5. But in 1992 it was re-branded into 5FM radio station.
Show more
5FM reviews
Margo Groenewald

27.05.2022

Best Radiostation in SA. I love Nic` and the show. Keep up the great work🪴

Been listening to 5fm since 1998 was still in Primary ... my love for international music began here ... Derick the Bandit, Mark Gillman, Mark Pilgrim, Kevin Fine, Catherine Grenfell, Barney Simos (RockTober) Sasha Matinengo, Ian F, Koula Roger Goode!!

Etienne Marais

20.10.2021

Please can you play for all the young people more Christian & Gospel Dance music?

My go-to station! Listening from Canada <3

Mariaan Clarke

27.01.2020

Making my work day pleasant!

Aleksandar Jeremic

26.12.2019

PERFECT station ever! Listening you from Serbia :D

Thank you for awesome music 👍🏿👍🏿👍🏿👍

Negro Maphumulo

03.11.2019

Thanks 😊 for Good Music

Julian Arrison

09.10.2019

Keeping me awake on my night shift... 5Fm at 110% right now

Natasha Mulenga

06.09.2019

Listening from Perth. Awesome as ever
Information about the radio
5FM targets South African youth and offers contemporary music hits and entertaining content. The audience of this radio station is more than 2 Mio listeners. It also has more than 200,000 likes on Facebook and around 240,000 followers on Twitter. With such statistics 5FM is a powerful voice having real influence on South African youth. We've counted more than 10 various awards that this radio station won. All of them are listed on their website, but there are some awards worth mentioning here: Best of Joburg, MTN Radio Awards, World Radio Summit Awards and Sunday Times Generation Next Awards.

5FM is available in 24/7 mode in English on 98.0-103.6 FM frequencies depending upon your geographic region. But if you prefer to listen to 5FM online, you can check our live stream for that. This radio station can be also available on your smartphone or tablet via our free app.
Radio contacts
SMS: 34555 (SMS costs R1.00)