Stand with Ukraine. Save peace in the world!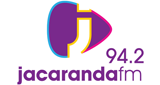 Jacaranda FM
Johannesburg, 94.2 MHz FM
Jacaranda FM is the biggest independent radio station in South Africa. It broadcasts in a 24/7 mode in both English and Afrikaans. This is the most popular radio station among Afrikaans-speaking listeners and according to some sources its audience reaches approximately 2Mio people a week. Jacaranda FM radio station is owned by Kagiso Media (SA's media company) and operates from its main studio in Midrand near Johannesburg. But it also has a secondary studio in Johannesburg.
Show more
Jacaranda FM reviews
William Simpson

09.02.2023

Have been living in the USA for 20 years, Listen to Jacaranda every night, its how I stay in touch with events in SA. Love it. Well done Jacaranda.

FANTASTIC STATION interesting topics with regular traffic updates and so intouch with the puplic and also caring I LOVE THIS STATION BEst wishes to you all at Jacaranda

Love Martin and the team.

Please play stressed out from 21Pilots😁

Jacaranda is the only radio station i listen to,music they play always goes with my mood at home at work always jacaranda

play more of Post Malone please

Lawrence Tarving

21.12.2021

This is the best radio station I listen to it all day every day keep it up

Etienne Marais

20.10.2021

Please play for us some more Christian, Gospel and Praise & Worship Music?

Good Work.., You're the BEST , Thanx 4 the amazing music..

Maria Helena Hattingh

18.08.2021

Luv Danny Painter she has so much empathy for humans. I can listen to her and Martin Bester the whole day
Information about the radio
Their slogan is "80's, 90's and now" and their daily programme includes:

- Music (hits from 80's and 90's as well as contemporary music)
- News
- Shows

It started broadcasting on January 1, 1986. Right from the start the name of the station was Jakaranda. With the time it was changed to Jacaranda 94.2 and finally to Jacaranda FM. Depending upon your geographic location in South Africa you can find this radio station on 93.9 - 97.1 MHz FM frequencies. Like the majority of SA's radio stations they still have no app, but you can use live stream at our website and listen to Jacaranda FM online at any time.
Radio contacts
Studio Competition line: 083 910 9421
Studio SMS Line: 37942
Studio Whatsapp no: 084 850 0942