Stand with Ukraine. Save peace in the world!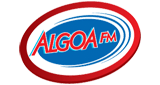 Algoa FM
Port Elizabeth, 94.0-97.0 MHz FM
Algoa FM is an adult, contemporary radio station broadcasting on between 94 to 97 FM Stereo in the Eastern Cape province, South Africa. With nearly 900,000 loyal listeners, it is one of the top media players in the region and a preferred advertising medium.
Show more
Algoa FM reviews
hi guys from Gauteng Ilisten in on somedays just to catchup on what's happening in the EC origanally from Despatch but Gauteng is my home now 15 yrs here and I love it here. God bless you all

Sky Country Aliwal North

20.02.2021

...

Best radio station in the country. Why are you not on DSTV?

Annelien Wessels-George

04.10.2020

Hi Please please shout out to my sister Yolandie and niece Dani mis lief julle meeeeeeeer! Speel knock 3 times xxx

Luv the show Kaycee. Shout out to golden girls. From Jozi Barmans

Riedaa Van Haaght

17.05.2020

hay Kaycee great show bru

Hi from NZ , Love to listen when possible ! Cheers

Comforting to keep up to date with family and friends and COVID from my own isolation in AlKhobar, Saudi Arabia.

Caryl Ann Klokow

11.04.2020

Presenter just said...dont use surgical mask rather material. Not true...pls surgical mask block out Corona virus material allows bacteria 1 micron and smaller through...so material mask helps a little only!! Caryl dental hygienist

Lorraine Kirkland

02.03.2020

Only discovered Algoa now (from Garden Route) !
Information about the radio
Algoa FM broadcasts from the Garden Route to the Wild Coast. The on-air product is lifestyle focused towards adults who enjoy good music and indulge in quality life experiences.
Radio contacts
Telegram: 0617 940 940