Stand with Ukraine. Save peace in the world!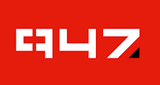 947
Johannesburg, 94.7 MHz FM
947 (formerly 94.7 Highveld Stereo) is a radio station that broadcasts on the 94.7 FM frequency from Johannesburg, Gauteng, South Africa.
Show more
947 reviews
On every show of 947 they have to always talk relationship topics. Everything is based on relationships for 947. I mean once in a while is fine but everyday from the morning up until the night is a bit too much.

Jayestha Naidoo

27.05.2023

Awesome tracks. Love the old skol music. Block party is the best ❤️❤️❤️❤ listening while I have shedding 🤗🤗🤗🤗🤗

What song played at around 14:30 today it was a male popular song its humming than the song

very much happy listening 94.7 live streaming from limpopo (sekgosese)

Wilma Van Heerden

09.05.2023

Speel vir ons SySoen van wilma van heerden op die stasie asb.

What song played on Friday 3 March around 09h00, it was an amazing party mix?

oxilio Mondlane

20.09.2022

If you want to feel good, just list on 94.7 live on your daily basic.

What's that song? Chedor mi amor? Artist and name please

Phembani Mbhele

21.07.2022

Welcome back! Anele we've missed you so much "ubuyile uMxhosa wakuthi"😍🔥❤

Very much happy listening to 94.7 live streaming from Pietermaritzburg
Information about the radio
If you think Joburg, you think 947. From the towering skyscrapers of Sandton, to the dusty mine dumps, 947 broadcasts the heart beat of the city. We're with you as you wake up early to face the day, as you drive to work, as you fight your battles in the workplace, as you plan your free time, and then party the night away.

We're fun, funky, clever, cheeky, bold and, above all, interested...in you!


947 SHOWS

• VARIOUS
Much like the vibrant city of Joburg, 947 is one massive community overflowing with creativity, innovation, ambition, warmth and authenticity.

• ESSENTIAL 947
Listen to your favourite moments from your favourite station, weekdays from 1am to 5am. Essential 947 is a compilation of the biggest moments from the 947 Breakfast Club, Ayanda MVP, Greg & Lucky,...

• ALEX CAIGE
Alex Caige – it's the kind of name you'd expect to see when the credits roll at the end of an action flick.

• 947 BREAKFAST CLUB
They're full of laughs, loud and impossible not to love. In fact, you're going to be obsessed with them. They're the 947 Breakfast Club, and you're more than welcome to join the club every Monday to...

• 947 WEEKEND BREAKFAST WITH ROB VEMBER
947 Weekend Breakfast with Rob Vember. Rob Vember's warmth, humour and friendly style has made him one of South Africa's most popular radio personalities.

• 947 BEATS AT WORK
Hear your favourite song between 9am and 10am on weekdays. The playlist is controlled entirely by you. 947 Beats at Work. Your Music. Your Voice.

• AYANDA MVP
If there's one thing Ayanda loves about Joburg is that it has so many different experiences on offer for different lifestyles. It's got something for everyone. Basically, Joburg is a lot like her!...

• COCA-COLA TOP40JHB WITH ZWELI AND MANTSOE [#COKETOP40JHB]
Listen to the Coca-Cola Top40JHB with Zweli and Mantsoe every Saturday from 10am to 2pm.

• THE GREG AND LUCKY SHOW
Greg and Lucky are the definition of "different" – and they're super proud of it too. They've got a knack for adding a hilarious twist to even the most mundane topic, literally leaving you laughing...

• NICK EXPLICIT
Nick E brings his signature hip hop style to 947 when he hosts his weekend slots every Saturday morning from 1am to 4am and Sunday evening from 9pm to 12am. Nick's been building his profile in the...

• 947 XPRESS DRIVE
947 Xpress Drive will have you on a rollercoaster of emotions every Monday to Friday from 4pm to 7pm.

• EUNITE WITH EUPHONIK
Dance into the new week and Eunite with Euphonik every Sunday, from 6pm to 8pm. It's your weekly dose of the hottest dance music in South Africa and across the globe.

• BLOC PARTY
Join Sizwe Dhlomo (7PM - 10PM) and MAC G (10PM - 1AM) every Friday and Saturday night as they play the hottest hits only on 947!

• THE 947 NIGHT SHOW WITH ZWELI AND MANTSOE
As far as Zweli and Mantsoe are concerned, the night belongs to them. When they're not on the radio, they're out taking on Joburg from dusk till dawn.

• KARABO NTSHWENG
Beneath the fresh-faced façade, Karabo is fierce and feisty. With her finger firmly on the pulse of Joburg, Karabo manages to balance being in the know and on the go, with caring for her fellow...

• 947 NIGHTS WITH MAC G
Mac G is pretty secretive about his real name, but the two things he can't keep to himself are his love for awesome music and his off-the-cuff sense of humour.
Radio contacts