Stand with Ukraine. Save peace in the world!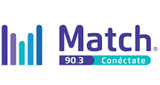 Match
XHEMIA-FM is a radio station on 90.3 FM in San Pedro Tlaquepaque, Jalisco, in the Guadalajara metropolitan area. It is owned by Grupo ACIR.
Match reviews
Hola.los escucho desde chile, muy buena radio.

Es la mejor estación, felicidades!!! pero no me puedo conectar en linea, ni por Iheart ni por match en vivo... quiero llorar!!

la mejor estaciòn y punto.

Hola buenas noches! Quisiera escuchar la canción de bésame de Yasniel Navarro y Sofiko Alania

Jeon jungkook Aguayo García

13.08.2022

Hola buenas tardes me gustaría que pusieran la de doja cat "need to know"

Díganle a su locutor que una persona de Bélgica es belga no belgico.

Luis Aceves Sanchez

20.04.2022

SON LOS MEJORES 😄 PUDIERAN MANDAR UN SALUDO A MIS HIJAS SARAH Y MIRANDA QUE LAS ESCUCHAN TODAS LAS TARDES SIN FALTA. SALUDOS

Alexander Xicol

16.03.2022

Saludos desde GUATEMALA saludos por mis paisanos un abrazo desde la distancia

Emmanuel Perez

11.03.2022

Hola buenas tardes me gustaría escuchar la de deweken ser your

Johanna Centeno

12.02.2022

Hola MATCH los escucho desde Ecuador son la mejor estacion.