Stand with Ukraine. Save peace in the world!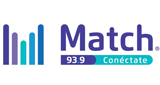 Match
XHPOP-FM is a radio station on 93.9 FM in Morelia City. The station is owned by Grupo ACIR and airs the company's Match format of contemporary hit radio in English.
Match reviews
ya quedó corregido admin. Gracias ñ_ñ

Iris de la Cruz

07.09.2022

a que número mandábamos Dua? yo quiero participaaaar🥺

Yo quiero participar en los boletos 😔

8BP人ZamAsP人RTX 8bp

26.05.2022

hola les recomiendo que pongan la cancion que se llama nataaoki

Hugo Gael Cazares Trejo

10.01.2022

pueden poner (Nightcore Crush Tessa) porfa

buena musica

Dylan bravo martinez

12.10.2020

Pueden poner alguna canción de Gera Mx por favor😸

Valeria Zavala Rodriguez

18.09.2020

pueden poner beso la nueva cancion de cnco

Tadeo Soto Monroy

27.05.2020

exelente musica

Buenas tardes☺️!!! Podrían poner la canción de engañemoslo de Jenni Rivera porfa💕!!!