Stand with Ukraine. Save peace in the world!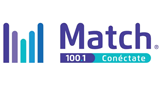 Match
XHCNA-FM is a radio station on 100.1 FM in Culiacán City. The station is owned by Grupo ACIR and airs the company's Match format of contemporary hit radio in English.
Match reviews
Exelente estación de radio

Danny Amezquita

13.08.2022

La verdad a todas horas y la escucho a todas horas" pura calidad de música "

Micaela Arredondo

23.05.2022

Saludos Bere, comiendo tostadas de salpicon

muy buena musica pero una pregunta tambien ponen musica de youtuber

Pablo Osuna Zazueta

23.09.2021

Muy buena musica, agradable estacion, felicidades, sigan asi, saludos

Alfredo Ortega Martinez

26.05.2021

Buen dia, les desea interiorismo Eldorado

Ismael Almazán Salmerón

19.12.2020

Saludos desde Chilapa de Álvarez México

;)

Carmen Hernandez

07.10.2020

Por favor pongan dope de bts plis, saludos desde Culiacán rosales

Luis Alberto Valdez

29.09.2020

Escuchándolos desde Puebla. Saludos.