Stand with Ukraine. Save peace in the world!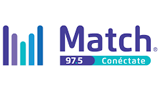 Match
XHPQ-FM is a radio station on 97.5 FM in León City. The station is owned by Grupo ACIR and airs the company's Match format of contemporary hit radio in English.
Match reviews
PONGAN MUCHO ONE WAY OR ANOTHER DE ONE DIRECTION Y STORY OF MY LIFE

Buenas tardes,podrían poner la de Sky full of stars-Coldplay

Manden u. Saludo al maistro Oscar que nadamos metiendo drenaje acá en doctor mora GTO con la canción NI MAS TICO NI MAS POBRE POR FAVOR

CARLOS MAXIMILIANO RODRIGUEZ MARTINEZ

28.10.2021

me pueden poner la canción pitbul que no pare la fiesta

Margot Vazquez Iturralde

18.10.2021

EXCELENTE

Laura González García

25.09.2021

Hola, podrían poner la de niño de Ed maverick con muelas de gallo porfavor

madisson copper

27.05.2021

holaaaaaaaa pueden poner deja vu de Olivia rodrigo

Rocha Serrano Paola Karim

13.05.2021

Podrian poner Cry For Me de TWICE

holaaa, podrían poner Cheer up Baby de Inhaler pls

Podrían poner kiwi de Harry styles? O Defenceless de Louis tomlinson!!!