Stand with Ukraine. Save peace in the world!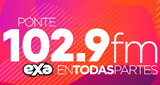 Exa FM
La estación radiofonico de música juvenil con los éxitos del momento en español e inglés.
Exa FM reviews
Yandel Gonzalez

10.06.2023

Hola Buenas tardes sí me podrás complacer con la canción de madre tierra de Chayanne Gracias y en todas partes pon te exa.

Francisco Israel Dorado Mendoza

12.04.2023

Saludos para la licenciada Ely Conde de un enamorado secreto ㊙️

Kelly Vanscouver

03.07.2022

Hola saludos a claudia González y a Mary

Gerardo Rodríguez

09.05.2022

Una disculpa por la molestia, pero alguien sabe los siguientes datos de esta estacion? Nombre de la estación: Exa FM Tehuacán.

hola queria enviar un saludo a mi gran amor se llama felix carrera los escucha siempre en su trabajo de parte de su novia diana lopez

Juan Carlos Hernández Rendón

06.12.2021

Buenos días, una pregunta: Tengo cita para hacer cambio de placas aquí en Tehuacán, tengo todos los documentos solicitados donde realizo el pago?

Un saludo a los niños Karol Francisco, Joan, Laura Guadalupe y Alan Omar, que viven en Tlacotepec de Diaz, en la Sierra Negra ... de parte de sus papás, Juana Montalvo y Sidney FRancisco Silva,, muchas gracias...

ANTONIO PACHECO

27.04.2021

denle mantenimiento por favor para tener una mejor experiencia los que los escuchamos por via internet

Haku Mizuky Pacheco

13.08.2020

Como puedo solicitar una canción o me pueden pasar algun numero de whats

Hola soy Daniela cómo pido una canción??.
Radio contacts
https://www.instagram.com/exafm/
https://www.youtube.com/user/exafm