Stand with Ukraine. Save peace in the world!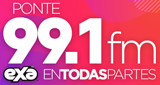 Exa FM
Emisora con pura música pop sonando cada hora del día para disfrute de un público con ganas de ritmo, diversión y de disfrutar de buena compañía con los locutores más experimentados.
Show more
Exa FM reviews
Lorenzo Aguilar

08.09.2023

Excelente labor de la Fundación Jesús Prado, felicidades!!!

Daniela Magdaleno

08.05.2023

Excelente movimiento AGUA VIVA ❤️🫂

MARIO ARTURO CASTRO PIEDRAS

08.03.2023

Excelente participación y aportación de la Lic. Pamela Téllez , en su emisión del día de la mujer

Hurtado villagomez Juan Ángel

20.05.2021

holaaa buenas tarde cuales son sus progras y tipos de programas y horarios es para una tarea

Laura josefina Pérez vega

29.01.2021

Saludos al Dr Javier Cruz ... Hospital Trinidad Cdmx ... agradecemos la valiosa información actualización y felicitaciones !!!!

Eli De Los Rios

17.07.2020

Preciosa Radio y un ejemplo de presentadores, saludos desde Barcelona, España. Felicidades¡¡¡

María Inés Rodríguez Flores

21.05.2020

Saludos y felicitaciones a Alfredo, excelente persona y ser humano mi amiguita Paty Soto.

Felicidades, excelente programa, conductores y maravillosas invitadas, ejemplo de mujeres integrales un abrazo a tan bellas damas y gran caballero.

Saludos a mi Primo David desde Guatemala

Saludos a mi hermano max de guadalagara sapopan los cajetes
Information about the radio
XEVI-AM/XHVI-FM is an AM-FM combo radio station in San Juan del Río, Querétaro, broadcasting on 1400 kHz and 99.1 MHz. XHVI carries the Exa FM CHR format from MVS Radio and is owned by Multimedios en Radiodifusión Morales, S.A. de C.V.

XEVI came to air on 1310 kHz in 1962 as the first radio station to be based in San Juan del Río. Initially known as "La Estación del Pueblo",it was owned by General Ramón Rodríguez Familiar, the governor of Querétaro from 1935 to 1939 and founder of Querétaro radio stations XEJX (now XHJX-FM) and XENA (now XHNAQ-FM) and founded by Enrique Morales García. By the late 1960s, XEVI had moved to 1400.

In the 1990s, the station came under the control of Martha Resendiz Osejo and became an FM combo; it was transferred to the current concessionaire, a business of the Morales Resendiz family, in 2009.
Radio contacts
https://www.youtube.com/user/exafm