Stand with Ukraine. Save peace in the world!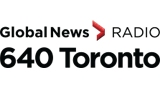 Global News Radio 640 Toronto
Global News Radio 640 Toronto - CFMJ is a broadcast radio station in Richmond Hill, Ontario, Canada, providing News and Talk shows to the Toronto area.
On the air Global News Radio 640 Toronto
| | |
| --- | --- |
| Live | . - Tasting Together - Jun 3 - Seg 1 - Tasting Together - Jun 3 - Seg 1 |
| 17:05 | . - Corus Media - 27808 STACKTV Radio 30 |
| 17:05 | . - Marineland - 2023 Now Open |
Global News Radio 640 Toronto playlist
TOP songs on Global News Radio 640 Toronto
Global News Radio 640 Toronto reviews
Honest Reviewer

01.02.2023

I am so disgusted and can't believe what a complete Neanderthal and barbaric A HOLE Greg Brady is. Take this loser off the air please. I refuse to listen to 640 news completely. I can't believe what I heard on the air today. Greg Brady was praising some inbred trash loser for abandoning and abusing a rescue dog that was found out in a forest. The dog apparently was so scared it bit and instead of bringing the dog the the humane society they killed the dog and Greg Brady was laughing like an A HOLE. How can you praise someone for being an animal abuser?? I believe Greg Brady is a complete piece of trash and doesn't deserve to be heard on the air. Get rid of Greg Brady. I'm done with 640. BTW rescue animals are the best and you don't know what they have been through. No one should condone or support evil people.

I especially like The Roy Green Show, & The John Oakley show --- both very insightful, engaging, & most interesting. Peter Sherman is good to listen to, as well --- balanced, well-thought-out commentary. He deserves his very own regular segment at the station, as his fill-in duties have by-times exceed the "...listenability" of those regulars that he's subbing for...!

Michael Stickland

18.08.2022

It is not " The Muskokas", it is Muskoka. Please get right you sound foolish!

Wow! I think I have just heard the absolute DUMBEST QUESTION 2/28 5:58 pm out of Toronto radio stations by John Oakley! He asks if Alex Ovechkin should be disciplined by the NHL and who would be a worse rep of their field... OVECHKIN OR PRESIDENT TRUMP? What an A-HOLE statement to make by a washed up talk show host! You could only wish to have a player like him on your team and have a LEADER like D.Trump leading your Country instead of a little Dicktator like Baby Castro! What an idiot you are Oakley, learn to look at the size of your feet before you stick them in you mouth!

Please bring back the good old guests of John Oakley: Conrad Black and Diane Francis and maybe get back George Nory too. Coast to Coast has many Canadian crew working there in L.A. The best on AM 640 is ROY GREEN ! always a great show! Listen to him on our week-end Bar-B-Qs.

Please. Ring back Coast to Coast, otherwise no reason to turn on 640 anymore.

Oakley and Green are okay but going more left by the day. The rest has gone far left with teacher /union talking about endless measures to keep themselves safe- utter drivel and weak whiny fearful, cowardly people makes anyone want to throw up. Lowest of the cowards.

Greg Brady has to be the most annoying jock I have ever listened to on air. Nice hard turn left to drive away loyal listeners. Well done

Please get rid of this silly woman that tries to sound like Moira from Shitts creek! She is a cross between a 1 800 sex worker and a freaken 7 yr old???? Arlene Bynon please, please find another job!

I just can't listen to Greg Brady, why does he shout?! I miss Stafford. Tuning into CFRB 1010 from now on.