Stand with Ukraine. Save peace in the world!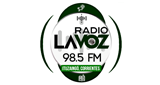 Radio La Voz
En este espacio que transmite en su dial para los vecinos de Corrientes y en internet para cualquier persona interesada de diversos lugares del mundo, encontraremos noticias, ratos divertidos, mucha música y más.
Radio La Voz reviews
Arnaldo Argentino Paez

02.01.2023

Soy correntina estoy en prcia Buenos Aires Tandil quiero saber de mi corrientes ituzaingoconducido Dario miño

HECTOR RAUL REICHERT

19.10.2022

Buenos dias excelente la radio, si pueden consulten a la directora de Alberdi sobre evento Provincial HEROES DE LA CIENCIA A DESARROLLARSE EN ITUZAINGO en la escuela Alberdi

Juan Carlos Beliera

15.02.2021

Excelente emisora, principalmente el programa De Local conducido por Darío Miño, excelente programa, un capo su conductor, felicitaciones desde Buenos Aires los escucho siempre, y me mantienen informado de mi lugar en el mundo

Marcelo Rios Rios

26.08.2020

Buenos días gente saludos desde Concepción Chile

Virginia soledad Barreyro

10.02.2020

Hola me llamo sole es la primera ves que lo escucho la radio y me gusta vivo en buenos aire

Nelson Jose Abracaite

28.01.2020

Muy linda la radio...les escribo desde jujuy...vivi muchos años en ituzaingo y siento una nostalgia dificil de explicar con palabras...el año pasado pude volver despues de casi 30 años y encontre a itu mas linda q nunca...y poder escuchar sobre el lugar me lleba de emoción...muchas gracias por lograr q la distancia se acorte por este medio!!!! Saludos y abrazos!!! Sigan asi...Atte Nelson....

Hola chicos! los estamos escuchando desde Madryn Chubut, Ituzaingó Corrientes siempre cerca.

Daniel Castillo

15.11.2019

SALUDOS DESDE MENDOZA, LOS ESCUCHO CUANDO PUEDO DESDE LA CORDILLERA....
Radio contacts
+54 03786 42-0047