Stand with Ukraine. Save peace in the world!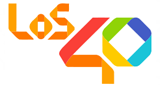 Los 40
Buenos Aires, 105.5 MHz FM
Los 40 se ha transmitido desde 2006, se encuentra en la FM 105.5 desde Buenos Aires, con repetidoras en todo el país, ofrece espacios de entretenimiento y música variada.
Los 40 reviews
sabrina denise bigliati

29.03.2023

Por que la radio permanezca a pesar de la tecnología...!

Hola, soy mateo desde moron y los escucho todos los días con mi mamá, los amoooo!!!❤️

Hola, les escucho a menudo desde Francia y me encanta su programación.

hola soy Ramon desde Tartagal - Salta, los escucho todos los días desde mi oficina, son mi compañia desde siempre, muy buena música

Carniceria Tito

10.03.2022

holaaa soy agustin basavilbaso soy fanatico de tu radio me encanta te escucho todos los dias saludosa :) me motiva para pescar :) saludos

elizabeth medina

23.01.2022

Hola soy hugo quiero saludar a mi equipo de trabajo que son ojeda . Acuña.y silva estamos patrullando la ciudad de pacheco ..bs as .un saludo enorme para vos y tu producción que siempre nos acompañan

pongan el tema en la oscuridad de maria becerra y lik killa

Juan Carlos Romualdo Romero

30.11.2021

LOS40 España

Maria Fernanda Vaccaro

26.10.2021

Hola juani!! Soy de mardel te escucho todos los dias me encanta la radio son una gran compañia. Mi suegra era mi mejor amiga hasta que se pudrio con el hijo. Hace 14 años que no la veo!.saludos para todossssss

Gabriela Aguirre

12.08.2021

BUENOS DIAS!!! GRACIAS POR ACOMPAÑARME CADA MAÑANA!! MUCHAS BENDICIONES. LOS SALUDOS DESDE CATRILO ( LA PAMPA).
Radio contacts
https://www.instagram.com/los40ar/