Stand with Ukraine. Save peace in the world!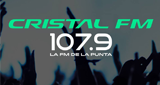 Cristal FM 107.9
Líder indiscutida en su segmento, combina los hits más actuales del pop y electrónica del mundo sajón. Es una marca internacionalmente reconocida por su música y artística.
Cristal FM 107.9 reviews
Fabian Sanchez

19.06.2023

La mejor radio,,sin palabras

Andres Sanchez

15.09.2020

un deleite para mis oidos exelente

Julio C. López

18.07.2020

Impecable!!

Marisol Lacuadra

18.02.2020

Perfecta... amo esta radio!!! desde hace mas de dos décadas que la escucho... viví un tiempo en Rosario y fue amor a primer sonido!!! Jajaja!... Ahora la escucho on line... es una oportunidad única... Besos a todo el staff lque hacen posible que todo salga perfecto

Carolina Giulianelli

22.10.2019

Hola chicos, escuchando como se refieren al gobierno de Evo y como logro perpetuarse en el gobierno me preocupa, verlo de una manera graciosa y alejada no es la forma de tratar este tipo de gobiernos en latinoamerica. Deberiamos darle la importancia que tiene el tema.

Alejandro Waelkens

12.09.2019

Genios totales...escucharlos me reconforta el alma..felicitaciones son nuestro orgullo..!!👏👏💪

Ariel Rodriguez

05.08.2019

Mach mor muisik.....muy buena musik!!!!

Miriam Virginia Almoualem

09.04.2019

Lo mejor de lo mejor!!! Calidad en sonido, informacion, voces!!! TOP!

Ricardo Pablo Nicastro Nicastro

08.01.2019

Hola gaciana soy Ricardo Pablo Nicastro y te mando un saludo grande desde Udine italy chauuuu baccionni.

Laquesis Pablo

13.06.2018

hace varios dias que la transmision de FM CRISTAL 107.9 no es la de esa emisora!!!