Stand with Ukraine. Save peace in the world!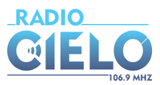 FM Cielo
Radiofonica número uno en la preferencia de los oyentes de Comodoro Rivadavia, transmite noticias de gran utilidad en tiempo real y durante las 24 horas, servicios a las comunidades, contenidos de informacion y entretenimiento.
FM Cielo reviews
Gabriel Arcieri

09.09.2023

Saludos Jesus , buen sabado, te escuchamdesde Campana, Maca, Mariana y Gabriel.buen programa excelente compania.

hace unos dias escucho la radio desde buenos aires,besos a a mi otra mitad que esta en zarate...sus hijos bray ,july y agos siempre lo tienen presente

Mi amor Marcelo los escucha. Espero q pasen la incondicional para mi otra mitad

Walter Dario Padua

07.07.2022

Exelente Radio, Exelente locutores que es lo que hace que sea muy buena compania ,buena musica y siempre con muy buena información !!

Eduardo Poggio

29.10.2021

Muy buena la radio en todo aspecto.

El cumple del amigazo es sin esposas

Jose Luis Coria

20.08.2021

Gracias x estar ...los escucho desde Derqui partido pilar con me gran amor Claudia soy José antes los escuchaba desde escobar... gracias gracias

Los Mejores....!!!

caterine giusti

26.06.2020

buenos dias aca desde lanus me encanta el programa feliz dia para rolo y lu

Mariana Sarradell

19.06.2020

estamos en igual fase q campana!! y campana se habilito!!! por favor!!! que lo de por escrito!!! las palabras se las lleva el viento...