Stand with Ukraine. Save peace in the world!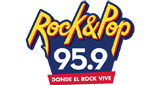 Rock & Pop 95.9
Todo lo que tenés que saber del rock está en un solo lugar, fmrockandpop.com te informa de todo lo que pasa en el mundo del rock. Hay muchas formas de hablar de rock, nosotros conocemos la mejor. El rock como lo conoces también en internet.
Rock & Pop 95.9 reviews
Oscar Magnifico

15.06.2023

La Divina Lengua obra de Mariano Magnífico se presenta el Jueves 22 de Junio a las 22 hs en el Teatro Picadero. Invitación especial.

Julio Zapata Perez

20.05.2022

SENSILLA MENTE, EXELENTE. Y UN SONIDO ,FUERTE. Y CLARO, GRACIAS .

Tengo 51 años, desde que tengo el uso de razón, yo casi bebé, escuchaba arrodillado en mi cama, en una radio casetera, las emisoras....escojan las que pasaban puro rock en ese entonces y en tocadisco sabía los 45 y 33 rpm de mi padre, por las etiquetas... Hasta hoy, el rock es un modo de vida.... La mejor forma de vivir sin joder a nadie...

Desde la epoca sublime y bendita(medio que me fui al carajo no?) pero bueh cada uno siente como quiera y yo lo expreso asi...desde aquellos años de RADIO BANKOC (asi?) hasta hoy soy un faba de esta radio y soy del tema...locutor y productor de programas de rock en un toco de radios de Parana,Santa Fe etc...hoy en horario central de 9a 12 en EXTREMA 93,7 Parana....dese alli los saludos con la admiracion de siempre LeoFoti

Hola! 14 de enero nací yo! 😂 Capricornio, lo que queda del año? Y sagitario mi hijo! Mónica de Malargüe Mendoza

Edgardo L Ortega

29.03.2021

La Rock & Pop que valía pena era la de Grinbank. Esta es un dolor de oídos.

Se la pasan mas hablando que pasando musica. Menos bla bla bla más rock y pop

Gabriel Medina

27.08.2020

Che saludo a todos los medina

Luis Osvaldo Silva

07.06.2020

hola,felicito a la rock and pop,por hacer del sábado y domingo,dias llevables con sus programas,sobre todo los domingosssss,,a la noche es un espectaculo,,,de lunes a viernes ,va paso a paso ,para mí,aunque no lo crean hicieron volver a muchos a escuchar la radio,,,que no es poco.

Saludos desde cd. Juarez Chih. Buen rock.
Radio contacts
https://www.instagram.com/fmrockandpop/