Stand with Ukraine. Save peace in the world!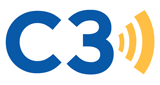 Cadena 3
Autoproclamada la auténtica radio federal, Cadena 3 transmite desde Buenos Aires, programas diversos, noticias nacionales, eventos deportivos, información relevante, internacionales, entretenimiento y música variada de actualidad, durante las 24 horas.
Cadena 3 reviews
Son realmente muy buenos! Excelente la elección de los temas musicales. Desde Villa del Rosario. Mabel.

Migel Dipascuale

10.12.2022

autoproclamada xDDDDD

Acción Graphik ArtÍculos publicitarios

28.04.2022

Saludos a toda la gente linda C3 de cordoba y a la famosa Katy Scapin de amancay...de santiago de chile...

Querida gente de Radio Cadena 3 Cordoba

Donizeti Cabral

18.01.2022

Muito boa! Acompanho pela internet aqui do Brasil.

Antonio Garrido

05.06.2021

recien ana dijo " el lugar mas frio del pais rio gallegos" ana revisa Mendoza precisamente localidad de LAS CUEVAS. 9 grados bajo cero... chau antonio de mendoza. te quiero

hola buenos dias desde REALICO LA PAMPA los saludos .......

Juan Manuel Rojas Bourguet

07.04.2021

Porque no se entregan las viviendas del PROCREAR DEL BARRIO LICEO GENERAL PAZ terminadas ya hace 2 años y con adjudicatarios con créditos aprobados que deben seguir pagando alquileres costosisimos .

Mariano Juncos

02.04.2021

Saben porque en el interior de cordoba. No estan vacunando o van a un ritmo mucho mas lento que cba capital?. Mi padre vive en cba capital y lo vacunaron hace un mes. Ademas toda la gente que conozco de cba capital de mas de 65 ya la vacunaron. Pero mi madre y su marido que viven en san roque. Frente al lago, ambisde 81 años y con patologias cardiacas, no han sido llamados sun. Alguien sabe el motivo de esta discrepancia en la reparticion de las vacunas? Gracias.

milton márquez galindo

02.03.2021

Excelente medio de comunicación, nos informa , nos alegra y por sobretodas las cosas nos acompaña las 24 hs.