Stand with Ukraine. Save peace in the world!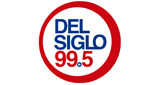 Del Siglo 99.5 FM
Estación con la propuesta musical del pop latino, con repertorio de los éxitos de los interprétes del momento, con información, notas del espectáculo, los mejores shows y entretenimientoshows en vivo.
Del Siglo 99.5 FM reviews
Enrique Rodriguez

23.09.2022

pasen el tema Abby & Roadjacks que van a tocar el sabado, gracias

Natalia Benitez

06.09.2020

la mejor de rosario...siempre la escucho!!!..la mejor compania.

Los estoy escuchando online,me gusta la música que ponen!

Georgina Dagostino

29.05.2020

maravillosos temas y toda la onda la radio!!! Me acompañan todas las mañanas haciendo barbijos en casa ;)

Gabriela Perrin

02.11.2019

hola smos edgardo y Gaby,,me encantaria escuchar en el 7mo, dia se soda..copada la radio y la musica..somos de Carcraña!!! besos

todossss los temas son maravillosos! Varíete unica!!

Patricia Caruso

20.03.2018

Acabo de recibir mi regalo de cumple , gracias a Fer y a Stella me encantooooooooooooooooooo la sorpresa y la buena onda ,,,, arriba las piscianas !!!!

Pasen el tema de la rengaaa... 2 mas 2 = 3... buenisimo el programaaaa!!