Stand with Ukraine. Save peace in the world!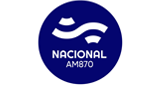 LRA 1 Buenos Aires
Estación que difunde noticias en vivo en el 1130 de la amplitud modulada y en internet, con espacios que tratan asuntos sobre política institucional y organismos públicos, así como tertulias sobre diversos aspectos de actualidad.
LRA 1 Buenos Aires reviews
Francisco Carmona

14.12.2022

Geniales, los escucho en Barcelona!

saludo,s para los argentinos, por favor extienda mi saludo para messi, digale que soy fanatiXA.

Marcos Santiago Chumbita

06.04.2020

Desde TInogasta Catamarca

nelson santana

17.12.2018

muy buenos su programa. me saluda a neyerlyn salazar. digale que es de venezuela. su mama neyeska.

Marcelo Goncalvez

05.12.2018

buenas tardes como se llama el cuento que narraron hoy

Wladimir Ortiz

18.11.2018

saludos como estan

franco sicurello

29.05.2017

que Magario deje de mentir, es una caradura, tránsfuga y cómplice del mayor choreo de la historia Argentina.... PROFUNDA AUTOCRÍTICA PRIMERO y después hacerse cargo de lo que dejaron los K... si cristina hubiera hecho, por lo menos, un gobierno mediocre no habría 30% de pobres y la economía parada desde el 2011. SON INCORREGIBLES CARGADORES

Berlibros Chedufau

13.08.2016

Acabo de escuchar en el noticiero de las 15 hrs. que hubo un ataque en un tren en Suiza, en el que atacaron a 16 personas "INCLUYENDO TRES MUJERES", qué quieren decir con eso.?

Excelente el trio DOS MAS UNO!!! Estos chicos son realmente muy buenos!!

Yamil El Halabi

16.07.2016

estoy escuchando a mi idola sandra mianovich. una genia.
Radio contacts
https://www.instagram.com/nacionalam870/