Stand with Ukraine. Save peace in the world!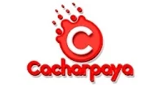 La Cacharpaya
FM LA CACHARPAYA ES UNA RADIO SALTEÑA con neto contenido folclórico, transmitiendo las 24 hs lo mejor de la música popular argentina, con programas de 07 a 22 hs con los periodistas más destacados del mundo del folclore, destacándose también por ser el dial más festivalero del norte del país con las transmisiones en vivo de los festivales más grandes del país.
La Cacharpaya reviews
Ruben Giacconi Giunta

16.04.2023

Hola a todos.... Ruben, siempre firme desde Catalunya. Buen domingo para todos.

Dario Maurenzic

13.01.2023

Hola amigos de Salta, soy Dario de Reconquista ( Santa Fe), primera vez que los escuchos, muy buena compañia en este dia lluvioso, y que mejor escuchando folclore, Saludos

quiero participar del sorteo. Gladys Paz. Concaran. San Luis. Gracias

Mario Ernesto Bierig

15.11.2022

Simpre les escuchámos desde Rosario. excelente compañia, música y ciudad que enamora, vivimos 18 años en esa romántica ciudad. Saludos. Mario Bierig y Sra.

Hola soy de Colonia Elisa, provincia del Chaco. Quiero felicitarlos por defender nuestra cultura. Esta nos da identidad en el mundo. Sigan así. Gracias por lo que hacen todos los días. Fuerte abrazo

Graciela Miglierina

22.10.2022

hola, soy de 9 de Julio ,pcia de Bs As. Excelente la radio hace dos días la empecé a escuchar, no la cambio por ninguna. Felicitaciones

Ruben Giacconi Giunta

12.04.2022

Hace años que los sigo desde Cataluña por medio de You tube. Gracias por traerme nuestra musica hasta aqui. Intentare hacerme un asiduo a la transmision en vivo.

humberto porfirio chavez amaro

06.04.2022

Buenas tardes, excelente colección musical la que difunden. Saludos desde Chongos Alto, Huancayo, Junín, Perú-

Abelardo Thwaites

30.03.2022

Muy buena coneccion con mi Salta querida desde Rio tercero , cordoba, saludo enorme de Abelardo

Judith Valdiviezo

25.11.2021

Les descubrí recientemente y ahora les escucho diariamente en Ecuador. Saludos a todo el equipo de la radio.