Stand with Ukraine. Save peace in the world!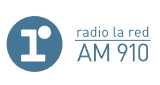 Radio La Red
La Red tiene como objetivo satisfacer a una audiencia exigente, con programación integrada de deportes, noticias nacionales e internacionales por periodistas y líderes con estilo propio, aportando cada día interesantes espacios de reflexión y claridad.
Radio La Red reviews
Guillermo H. Langdon Sagasta

20.01.2023

la oigo los 365 días.

me gusta mucho

Não me gusta.

Edgardo L Ortega

04.07.2021

Después de un poco más de 4 meses sin poder escucharse en onlineradiobox, ¡al fin de vuelta!

señores auspiciantes,,ya van varios sabados que dejo de escuchar radios desde onlineradiobox. y me paso a la competencia,...y veo los auspicios de la cpompetencia, por no poder escuchar RADIO LA RED AM910 DE BUENOS AYRES ARGENTINA.......SALU2

WALTER ORLANDO HRYCUK

16.12.2020

MUY BUENA PROGRAMACION TODO EL AÑO LAS 24 HORAS

Maria D'Ambrosio

05.12.2020

Muy buena

jorge alberto Lorenzo

02.12.2020

excelente informacion y para el deporte la mejor;profesionales bien de primera.

Hector Hugo Herrera

25.11.2020

Se fue el mejor de todos el ultimo caudillo pero el es una persona que para mi seguira vivo en mi corazon por siempre Diego nunca morira vivira por siempre en nuestros corozones TE AMO DIEGOO

Que Gustavo Lopez, que tanto insiste con la NO expulsion de Dominguez, diga la cantidad de faltas que le cometio el central a Reniero durate todo el partido y se fue sin amarilla.
Radio contacts
https://www.instagram.com/radiolared