Stand with Ukraine. Save peace in the world!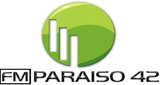 FM Paraíso 42
El Bolsón, 95.5-99.3 MHz FM
Estación radial que difunde música en los estilos más demandados por el público del momento, información, shows en vivo, actualidad y otras secciones para el oyente joven contemporáneo durante las 24 horas del día
FM Paraíso 42 reviews
Gustavo Martinez

30.06.2022

HOLA ..HOLA...yoni soy Gustavo de Villa Turismo ,QUIERO PREMIO.......

Juan Imaginero

17.02.2021

Esta emisora es la mejor de esta zona .El Bolson y paralelo 42.

Consulta Yony y si voy a Chubut en auto desde la Provincia de Buenos Aires, con el permiso Nacional alcanza? o tengo que sacar por cada provincia que atraviese aunque no pare en ellas? Un abrazo grande y te escucho siempre!!!

Riquelme Alejandro

27.05.2020

YONY DESDE RIO COLORADO TE SALUDO, AHORA PARA DECIRTE QUE TENGO MUCHA BRONCAAA, AYER ALREDEDOR DE LA 4 DE LA MADRUGADA UN HDMP LE QUEMO LA CASA A MI CUÑADA, DEJANDOLA CON NADA MAS QUE LO PUESTO, TANTO ELLA COMO A MIS DOS SOBRINOS

Hola yony me como piza solo con mí hermano por qué mis viejos se portaron mal

Pablo Andres Silva

15.11.2019

yony saludos de cipolletti. tanto tiempo. aka um ventarron q hay q salir con una mochila llena de piedras jaja. saludos. soy pablo silva.

Alejandro Riquelme

02.11.2018

hola buen dia como estas yoni ahora si volvemos a sintonizar la radio se arreglo la pc desde rio colorado saludo a mi amores paty y santy a mi suegrita susy que se juegue con algo rico o a mis tias monica o azusena gracias

buen dia saludos a mercedes yapura feliz cumpleaños que la pase lindo de parte de la familia godoy de pico truncado gracias

Maria Laura Butto

02.08.2018

jonhyyyyy, excelente la musica de hoy...gracias!!!