Stand with Ukraine. Save peace in the world!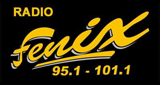 Radio Fenix
La Rioja, 91.5-101.1 MHz FM
Emisora que transmite una programacion de calidad, sus contenidos de noticias, deportes, música, informacion y entretenimiento la han posesionado como la favorita de los oyentes de La Rioja, su estilo variado y dinánico la caracterizan.
Radio Fenix reviews
nicolas fortunato paez

02.10.2023

la mejor

Florencia Baigorri

19.07.2022

Hola

Magali Castillo

12.08.2020

Necesito salir al aire urgente llamo llamo no atienden

Franco Santillan

30.03.2020

hola buenas tarde yo quiero saber como van hacer los jubilados y pencionados para cobra si no va a ver coletivo ni remis ni taxi

Hola querías preguntar si se puede trabajar en los salones de peluqueria

Alejandro Soria

23.01.2020

Gracias por acompañarme todo los día Rafi fénix soy de la provincia de santa fe Argentina

Ricardo Lottero Bogarin

22.09.2019

Buen día, quisiera preguntar a Tere que proyecto tiene para el barrio Alto Infanteria?

Hola Buenas tarde ,,Estoy en busca de José Andrés Abran del pueblo de San Nicolás...yo me llamo María Mercedes abran su hija..soy de arroyito provincia de Córdoba..Esty buscando a mi papá q hace muchos años no se nada de él .Necesito de sus ayudaa..Si saben algo o lo conocen ..Les dejo este número.449508

Francisco Olmedo

06.04.2018

Q grande poder escuchar a mi hermano nico un saludo desde pico truncado santa cruz

Luis Raul Sanchez

16.02.2018

HOLA 👋 SOY LUIS RAUL SANCHEZ LOS EXTRAÑABA PERO GRACIAS A ESTA APLICACIÓN AHORA PUEDO ESCUCHARLOS AHORA ESTOY VIVIENDO EN EN BUENOS AIRES EN SOLANO LES MANDO SALDOS A TODOS USTEDES QUE CONFORMAN LA RADIO 📻 FÉNIX ESTA MUY BUENA ESTA APLICACIÓN DE RADIOS
Radio contacts
SMS: (380) 466-3290