Stand with Ukraine. Save peace in the world!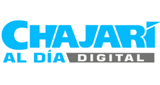 Chajarí al Día 940 AM
Cada día podemos sintonizar esta radio en su dial de amplitud modulada y a través de su sitio en línea, accediendo al instante a toda la información relevante del municipio de Chajarí, así como otros temas de actualidad internacional, en combinación con diversos cortes de entretenimiento.
Chajarí al Día 940 AM reviews
hola yani para vos y todo tu equipo y todas la audiencia soy gregorio de lujan pcias de Bs As- queria dedicarle a todas esa gente linda de chajari y san jaime de la frontera y tambien a mocoreta estas escuchando tu programacion . segui asi que esta muy buenas toda tu programcion

Mabel Marquesini

23.09.2021

Me encanta la programación con tanto chamamé....serán mis raíces chajarienses que afloran? Saludos desde Buenos Aires

Flavia Bellotti Lecca

15.09.2020

Tremendo tema Mi pequeño amor,sugiero la versión de Tato Angeleri ,uno de los fundadores del grupo Santaires. Felicitaciones por el programa

Leandro Martinez

14.12.2019

Excelente radio

Gustavo Daniel Rodriguez

16.11.2019

buenos dias saludos a chajari desde mar del plata muy lindo lugar de argentina,

muy buenaaa