Stand with Ukraine. Save peace in the world!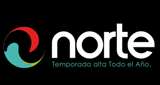 Radio Norte
Radio Norte, la mejor música, una fm diferente,te entretiene y acompaña donde estés. Tu lo puedes comprobar..la podés escuchar online
Radio Norte reviews
Paulo Cantarelli

31.05.2023

saudaçoes de Brasil

Manuel Gladbach

30.04.2022

HOLA amigos de la radio saludos desde MOLLENDO-PERU, la musica esta buena y si es variada huyyyyy magnifica, me parece excelente el estilo de Norte FM a seguir adelante.

Alfredo Seewald

22.01.2022

Gente la comencé a escucharla a la radio sin querer porque me llego el Spot. Que pasan NORTE la vida es una disfrútala. Desde ese momento la seguí. a Full 💪

Paula Dominguez

15.01.2022

Buenos días!!! Excelente música las 24 horas. Yo no soy de esta música, pero esta radio Norte se nota la hacen con ganas y amor los locutores de toda la noche.. Sigan adelante. 😉😉

roberto barrera

21.12.2021

Buenas noches de Mercedes bs as escuchando lo mejor de Bahía, saludos muy buena radio sigan así

Lucho Gutierrez

17.09.2021

Acá escuchando radio norte mientras mi compa me corta el pelo saludos muy buen radio

Diego Oscar Alcazar

21.06.2021

Hola buenos días les mando desde Lincoln provincia de bsas a 60 km de Junín estamos la escucho siempre muy buena radio la mejor Q e escuchado la conocí porque ago un reparto de fiambres en bahía y desde Q la encontré me acompañan a todos lados

Una genialidad esta radio!! saludos desde La Adela

Miriam Olga Perez

27.04.2021

LA MEJOR MUSICA DE TODOS LOS AÑOS, LOS ESCUCHO DESDE LA PROVINCIA DE SANTA CRUZ EN LA CIUDAD DE PICO TRUNCADO, ME LEVANTO Y ME ACUESTO CON SU MUSICA, LA MEJOR!!!!!

Saludos de Bahía! Buena musica!!
Radio contacts
Cel: 0291 - 154 141212