Stand with Ukraine. Save peace in the world!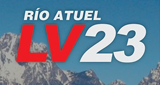 LV 23 Radio Río Atuel 88.9 FM
Somos LV23, tu radio de toda la vida. 46 años de trayectoria avalan nuestra forma de comunicar. AM800 en el país- FM88.9 en ALVEAR
LV 23 Radio Río Atuel 88.9 FM reviews
Excelente nota! Muchas gracias.

Maria Estela Roja

30.11.2023

Lo mejor que e escuchado

Mariela Vargas

12.05.2023

Hola buen día, Excelente la radio!!! Genial el programa cultural de Sonia Torres, quiero felicitarla por la asociación de artistas visuales y escénico, y por hacer que tantos artistas de Alvear tengamos un hermoso lugar para mostrar tanto de lo que podemos ofrecer. Felicitaciones por la radio !!!

Feliz Día del Trabajador para todo el staff de esta querida Radio!!!!!!

charly videos Salinas

11.04.2023

hola extravie un bolso con documentación queria saver como puedo hacer para que me pongan un aviso por favor .

roxana elizabeth perez

08.11.2022

excelente el programa Sanamente muy informativo y muy clara la conductora.

Saludos desde japon

Edgardo L Ortega

13.08.2022

Han actualizado el enlace de streaming y subo la nota

y mañana saludos a Emiliano Pareds,Ricardo Caseres y a Mario Caseres

Noemí Graciela Vasquez

20.12.2020

Hola quería ver si mañana saludan a Juan García que cumple años de parte de Noemí Graciela del sur cmte Luis piedra buen un fuerte abrazo ya iré por allá a visitarlos besos Juan y Gladys!!