Stand with Ukraine. Save peace in the world!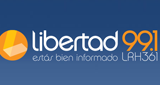 Libertad FM
La Estación que brinda entretenimiento mediante una programación variada musical de los hits del momento, información y noticias.
Libertad FM reviews
Juan Manuel López

01.03.2022

Chicas: no se debe pescar en el Paraná. Por si situación de extrema bajantr tengo entendido que está prohibido pescar. No hagan apología.

Guillermo Alberto Durante

18.12.2020

Hoy 18/12, en el Barrio San Miguel, nos sorprendimos al ver, luego de seis años UNA NIVELADORA DEL MUNICIPIO.

El plan detectar estuvo en mí barrio pero no es verdad q van casa por casa , cómo funciona ? Toda la semana están en un lugar? Eligen al azar un domicilio?

Rodrigo Morales

02.04.2020

Hola será que me podes pasar un numeri de teléfono para comunicarme

Natalia Cardozo

27.03.2020

Hola .bn dia quisiera saber como hacer para tener mi tarjeta de cobro .no la tengo no puedo ir a cobrar..como o donde puedo ir a retirar

La tarde portátil y nada más!!!

Vasco Grassino

07.07.2019

Hola soy Osvaldo grassino de piedras blancas entre Ríos muy lindo escuchar esa radio

En Barranqueras ( comisaria tercera ) no me quisieron dar la constancia para ser presentado a mi trabajo , la escusa, no tienen papel para certificar , posiblemente me lo den mañana,una inoperancia absoluta , que esto se difunda por favor , una vergüenza, el estar ahí , te muestra de cuerpo entero como estamos en nuestro querido país.