Stand with Ukraine. Save peace in the world!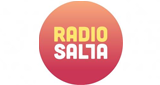 Radio Salta 840 AM
Escucha aquí la radio mas potente y moderna del interior del país, con una oferta basada en la transmisión de noticias y buena música, operando en vivo en el 840 de la amplitud modulada para el oyente argentino y en internet para el mundo entero.
Radio Salta 840 AM reviews
que tal muy buenos dias, soy de Alto la Sierra, departamento rivadavia

Un saludo desde Quilicura, al norte de Santiago de Chile. Radio Salta la he escuchado en directo en el 840 am. Saludos Pedro Vera.

Nicolas Zeiguer

20.04.2022

Hermosa radio y buena compañía

Ricardo Ariel Dominguez

13.12.2021

Saludos a todos. Yo la escucho desde chico, y ahora en otro lugar la sigo por este medio.

Hola!! Buenas tardes aquí.

Un gran saludo desde Cochabamba, Bolivia, comparto con ustesdes que de niño Me deleitaba escuchando en la madrugada hora boliviana del programa "BAJO EL MISMO CIELO" Ojala siga al aire. Saludos!!!!

Da un gusto escuchar la radio de gran renombre, que de niño escuchaba, sigue el programa bajo el mismo cielos? saludos desde Bolivia... exitos¡¡¡

Mario Gonzales

20.03.2021

Gracias mil por su programación, y grandes saludos desde Perú.

Noemì Del Milagro Coca

07.03.2021

Buenas tardes a la gente linda de mi radio favorita ( a los feos y petizos, nó ), un cariñoso saludo con llanto incluído por la distancia. Me encuentro viviendo en Malos Aires y soltando lluvia y ríos de lágrimas y mocos culpa de la nostalgia. Así qque si sale mal escrita alguna palabra es a causa de este estado. ´

Hola. Como hago para dejar saludos en la radio? He dejado mensaje en el teléfono q aparece en la página, pero nadie tiene la decencia de responderme.