Stand with Ukraine. Save peace in the world!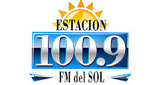 Estación del Sol
Estación de radio clásica que se presenta como líder en la comunidad argentina de Mendoza desde hace tiempo, sonando en el 100.9 FM y online para todas aquellas personas que desean disfrutar de la mejor música cada día.
Estación del Sol reviews
Superrrrrr Geniales!!!!!!

Isabel Sainvena

09.06.2023

M gusta está radio . Felicitaciones a todos muy profesionales . ♥️♥️

Lorenacarina Martinez

06.05.2023

Muy linda musica de vedia Bs As

Franco Giamportone

27.04.2023

Yo sacaria sumbando a los politicos y a las deudas. jajaj saludos china franco de lujan, ahora trabajando en un call center en el centro

Gustavo Carmona Aguero

21.09.2022

SALUDOS PARA MEDICOS ENFERMEROS CHOFERES DEL HOSPITAL SICOLI DE LAVALLE POR EL DIA DE LA SANIDAD GUSTAVO CARMONA (EL CHOFER)👏👏👏😘🚑

Alejandro Tagua

28.07.2022

QUE MANDEN SALUDOS LOS CHIMENOS A MI VIEJITA EDITH MAD DESEANDOLE QUE LE SALGA BIEN LOS ESTUDIOS QUE SE ESTA HACIENDO

Cómo se llama el tema anterior

Romina Pizarro

12.03.2022

la mejor radio!!!!!!!

Muy buena radio...excelente musica!!! saludos desde colonia elisa - chaco...

Ceci Recabarren

25.05.2021

Hola desde Madrid!! que gusto escucharlos, saludos a todos mis compatriotas.