Stand with Ukraine. Save peace in the world!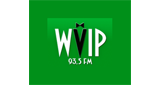 WVIP 93.5 FM
WVIP is a radio station licensed to New Rochelle, New York, USA and serving New York City. The format of this radio station is world ethnic and in particular they specialize in the Caribbean culture heritage.
WVIP 93.5 FM reviews
Claudia Berman

11.09.2022

Fascinating show. First time I've listened. Found you by accident and I am now a life-long supporter. xx

Luandre Porter

10.05.2022

This Is Cleopatra from the Myal Uprising movie listening live from Toronto. Look out for the movie premier in Philadelphia this August 2022. 🔥🔥🔥 Remember my laugh ...🤣🤣🤣

Ralston Thomas

25.03.2022

Dis is one of rolldeep promoter dj Elle mi luv di vydz up we seh 💯💯💯

Mrs Benita Rufus is the best ever! ❤ 😍

Orlando Jackson

16.10.2021

The young girl is alive and well

Great job

Laura Monteleone

26.01.2020

Great mixes

The best radio station ever .
Radio contacts
914-636-1460 (OFFICE)